GD Star Rating
loading...
The Marriage Plot, también conocido como "The Wedding Scheme" es un dorama coreano en el que una señorona que tiene un montón de hijas, en concreto cuatro, (no se porque pongo un montón, nosotras somos tres y aún tenemos los dos hermanos mayores, vamos que les ganamos por uno… XDDD) y quiere casarlas para deshacerse de ellas, se le ocurre el plan maestro y muy realista de juntar a las nenas que, por cierto, son especialitas, con cuatro mozalbetes considerados buenos partidos. Y así con el roce ver si consigue quitárselas de encima. ¿Conseguirá sus objetivos la madre?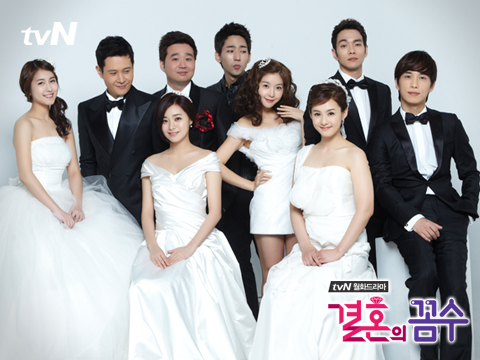 Todo ello ocurre en medio de una guerra empresarial. Yoo Geon Hee, una de las cuatro hijas especialitas de la señorona, trabaja en una empresa de "Kimchi" que es la competencia directa de la empresa de su familia, cosas que pasan en Corea, (ya tiene que haber pasado algo gordo para que se vaya a la competencia, vamos digo yo, sino te quedas en la de tus papas, ¿no?) siendo este el principio de la historia.
Las cuentas salen claras, si hay cuatro muchachas casaderas, aunque sean un poco especiales, habrá cuatro maromos, uno para cada una… ¿O quizá no?…
En esta ocasión os dejamos los enlaces para ver online desde doramasonline, es el único servidor donde hemos encontrado The Marriage Plot subtitulado en español, a disfrutar!!
The Marriage Plot online con subtítulos en español:
Protagonistas:
Lee Kyu Han es Lee Kang Jae
Kang Hye Jung es Yoo Geon Hee
Lee Min Woo es Seo Jang Won
Lee Young Eun es Yoo Seon Hee
Park Min Ji es Yoo Min Ji
Kim Se Jung es Yoo Min Jung
Kim Won Joon es Park Soo Ho
Seo Jae Kyung es Kim Dol Soon
Yoon Joo Sang es Lee Hak Goon
Cha Hwa Yun es So Doo Ryeon
Park Ga Won es Lee Ha Na
Kim Ik Tae es Director Park
Jung Seung Ho es Jang Duk Pal
Página del dorama The Marriage Plot en Hancinema:
http://www.hancinema.net/korean_drama_Marriage_Plot.php
Página de doramasonline: http://doramasonline.com/
The Marriage Plot online subtitulado en español

,